Call Our Concierge Line For Appointments
Medical Infrared
Treatment For Pain
Medical Infrared treatments for pain have also been growing in popularity. Advanced mid and far infrared technology is able to reduce inflammation and pain in joints and muscles as well as give relief for nerve pain. These treatments are painless and can further orthopedic healing after surgery and in some cases have helped patients avoid surgical intervention.
Get immediate relief from pain with this non-invasive treatment!
Advanced technology delivers light that readily penetrates into muscle and joints, immediately reducing inflammation of soft tissue, muscles, and nerves. In a single treatment, the average patient achieves approximately 80% reduction in pain, and some report 100% pain relief.
Treatments take approximately 30 minutes and can be repeated in 1-2 weeks if needed.
Patient success stories include relief from acute pain from new injury and relief from chronic pain from injury or surgery years ago.
Back Pain
Hip Pain
Neck Pain
Hand Pain
Knee Pain
Foot Pain
Wrist Pain
Ankle Pain
Shoulder Pain
Carpel Tunnel
Bells Palsey Pain
Trigeminal Neuralgia
"My low back has hurt for 30 years. Most nights I would get 3-4 hours of sleep total due to discomfort. Most days my pain was 7/10. After my first treatment, I was at least 85% better within a couple days and the relief lasted. Four weeks later I had a second treatment and soon after my pain was gone. Four months later I am still pain free and kinda in shock to be without the pain I have lived with for 30 years. I wholeheartedly recommend this simple, painless, non-invasive treatment. This truly is technology at its best. I am back to riding horses with my grandkids."
"I have worked at a computer where I type most of the day, for the last 25 years. This year I was diagnosed with bilateral wrist injury on both hands. Workers comp wants to do injections or surgery. I don't want to take steroids and surgery may or may not work. I highly recommend the medical infrared light to anyone with muscle or joint pain. The light penetrates instantly, stimulates the nerve, and provides immediate relief. After my first session, I had 100% pain relief for approximately six weeks. I had a second session, and again, pain was 100% gone for some time. I am trying to change my work behaviors by spreading out the time on the keyboard throughout the day."
"Four years after knee replacement I have pain that keeps me from sleeping more than 4 hours a night. The medical infrared treatment was very helpful. My knee aches less and the swelling is better too."
"The side of my wrist was swollen, and it ached for weeks. After one infrared light treatment, I was able to play golf pain-free the next day. It took less than half an hour."
"Fourteen years of chronic radiating face pain from inflamed nerves of Trigeminal Neuralgia. Wind on my face or brushing my hair would set off a cascade of pain. Gamma knife surgery procedure gave minimal improvement and the only thing that helped was prescription nerve pain medication. Medical infrared treatments every 4 weeks for 8 months brought the nerve sensitivity close to zero."
"Nobody told me that after bilateral mastectomy the tiny nerve endings would come back to life – making it hard to get comfortable and interfering with my sleep. Just one Medical Infrared Light treatment significantly reduced the annoying almost constant pain. "
"My low back has bothered me for years, especially at night when I try to get comfortable and sleep. Dr Reil did one treatment six months ago and I have been pain free since about a week after that first treatment. She helped me to modify my habits to protect my low back too."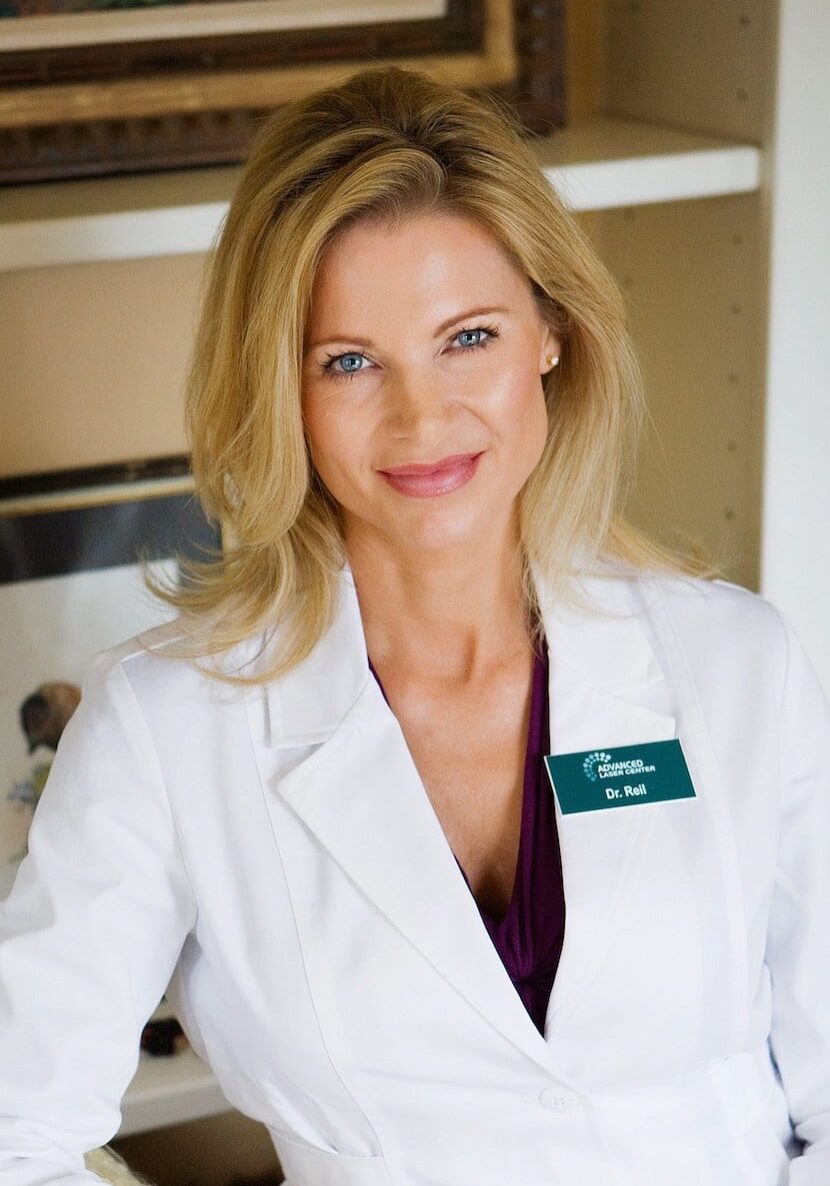 Dr. Julie Reil
A Montana native from Miles City, Dr. Reil was born and raised in a small farm and ranch community. She graduated from the University of Montana and won the title of Miss Montana at age 19. After earning a medical degree from the University of Washington, Dr. Reil completed her residency in Billings and practiced family medicine, primary care, obstetrics and gynecology for more than a decade. A dedicated passion for women's health led Dr. Reil to a career of research and development. Specializing in laser medicine, her focus was nonsurgical  pelvic restoration and feminine rejuvenation.
In 2007, Dr. Reil opened Shiloh Medical Clinic in Billings and later in Bozeman. The clinic has earned the high-credential of master injector for both Botox and Juvederm, making her practice in the Top 1% of Montana. Additionally, Shiloh has performed more Coolsculpting procedures than any provider in the state. Dr. Reil is a mother of two and enjoys spending time with her family in the the outdoors. She likes practicing yoga, attending rodeos and equestrian activities.  
Schedule Your Appointment